SolidskinTec is the perfect solution for printed technical textiles that must remain durable. Technical textiles printed with our SolidskinTec printing process are guaranteed to stay beautiful for a longer lifetime with lower maintenance costs.
Unique benefits from SolidskinTec
Our SolidskinTec printing process combines the pre-treatment of technical textiles with high-quality printing and a varnishing process. Inks and varnish are fused with the technical textile, adding protective and dirt-repellent properties. Our technology is unique compared to any other solution in the market.
Dirt repellent textiles with lower maintenance
The SolidskinTec printing process alters the nanoscopic surface of the technical textile so that dirt particles, chemicals, and water droplets cannot adhere to it. This property is known as the lotus effect because it resembles the way lotus flowers repel water and dirt. This hydrophobic surface is self-cleaning and easier to maintain because it repels dirt and bacteria better than untreated textiles. Dirt, moisture, and mold particles cannot adhere to this closed surface, so the textile retains its flexibility and appearance in all weather conditions. This also reduces the cleaning frequency and the need for aggressive cleaning chemicals that can damage the technical textile and the print. Your technical textiles can be easily cleaned using only water or rain.
A longer lifespan means a better ROI
Another essential property of the SolidskinTec printing process is its resistance to UV radiation. UV radiation can break down the pigment molecules in inks, causing discoloration. SolidskinTec ensures that the pigments will not be damaged by UV radiation, so the print will look the same even after many years of sun exposure – giving you a better return on your investment.

SolidskinTec. Guaranteed to stay beautiful. Even in extreme environments.
We guarantee the long-lasting beauty of your printed technical textiles. With SolidskinTec, your technical textiles will benefit from our unrivalled guarantee and offer a better return on your investment.
Independently tested
As part of our guarantee, our SolidskinTec was independently tested (ISO 105-A02 / ISO 16474-3) by TÜV-TNO and the COT Institute. The test criteria were based on actual conditions. During these tests, measurements were made on the preservation of color intensity, adhesion, flex-resistance, and the dirt-repellent effect. Instead of simulating daylight with a Xenon light source, a UV light source was used (Type II – UVA 340 nm). The duration of the tests was set at 5,000 hours, which corresponds to the average number of hours of sunshine in Western European countries over 10 years. All tests were conducted with and without the influence of water condensation. The outcome confirmed that the technical textiles printed with SolidskinTec passed all tests.
SolidskinTec, our unique printing process
Technical textile selection and pretreatment
We collaborate with the world's best technical textile manufacturers, such as the Serge Ferrari, Mehler Texnologies, Sattler, Sioen Industries, and Heytex. Together, we have selected and developed a wide range of mesh and solid membranes that are suitable for our SolidskinTec printing process. These technical textiles meet the industry's requirements in terms of strength, anti-bacterial resistance, and flame retardancy.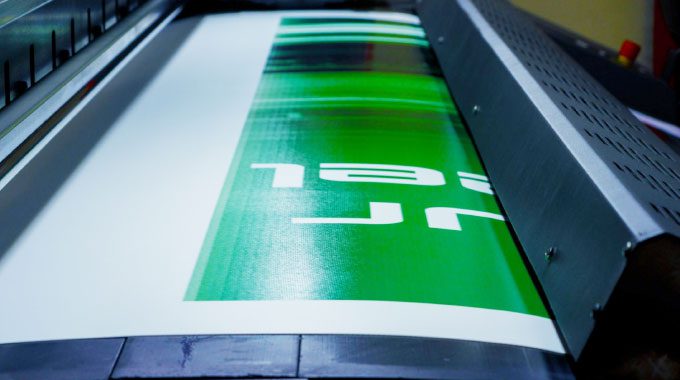 High-quality printing and skilled operators
We print technical textiles with top-of-the-line printers. Our print heads are adapted to our production process, so the colors match the desired result. Our printers can meet many color standards. Our operators are highly trained professionals who focus on quality and maintain the highest production standards.
Our unique fusion process
The SolidskinTec process fuses inks and varnish into the technical textile. This process enhances the technical textile with a guaranteed longer-lasting appearance, lower maintenance costs, and better physical performance throughout its lifespan.
Proof in practice
Our technology is used in a variety of applications such as truck side curtains, tents and textile facades. Textiles printed with SolidskinTec can withstand extreme weather conditions, air pollution, high UV radiation, and heavy mechanical stress. Practical examples prove that technical textiles printed and enhanced with SolidskinTec stay beautiful for a significantly longer period with lower maintenance costs.