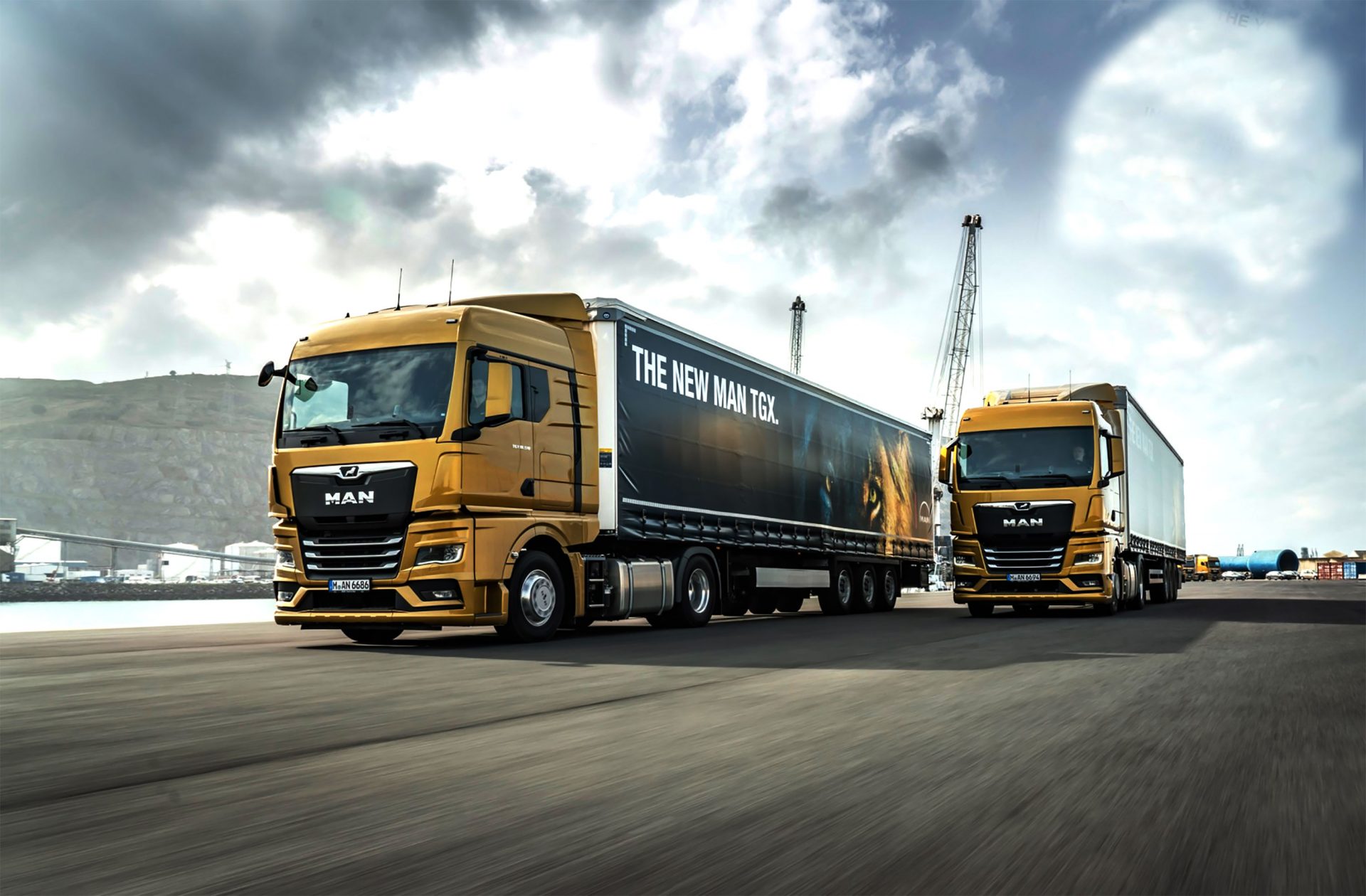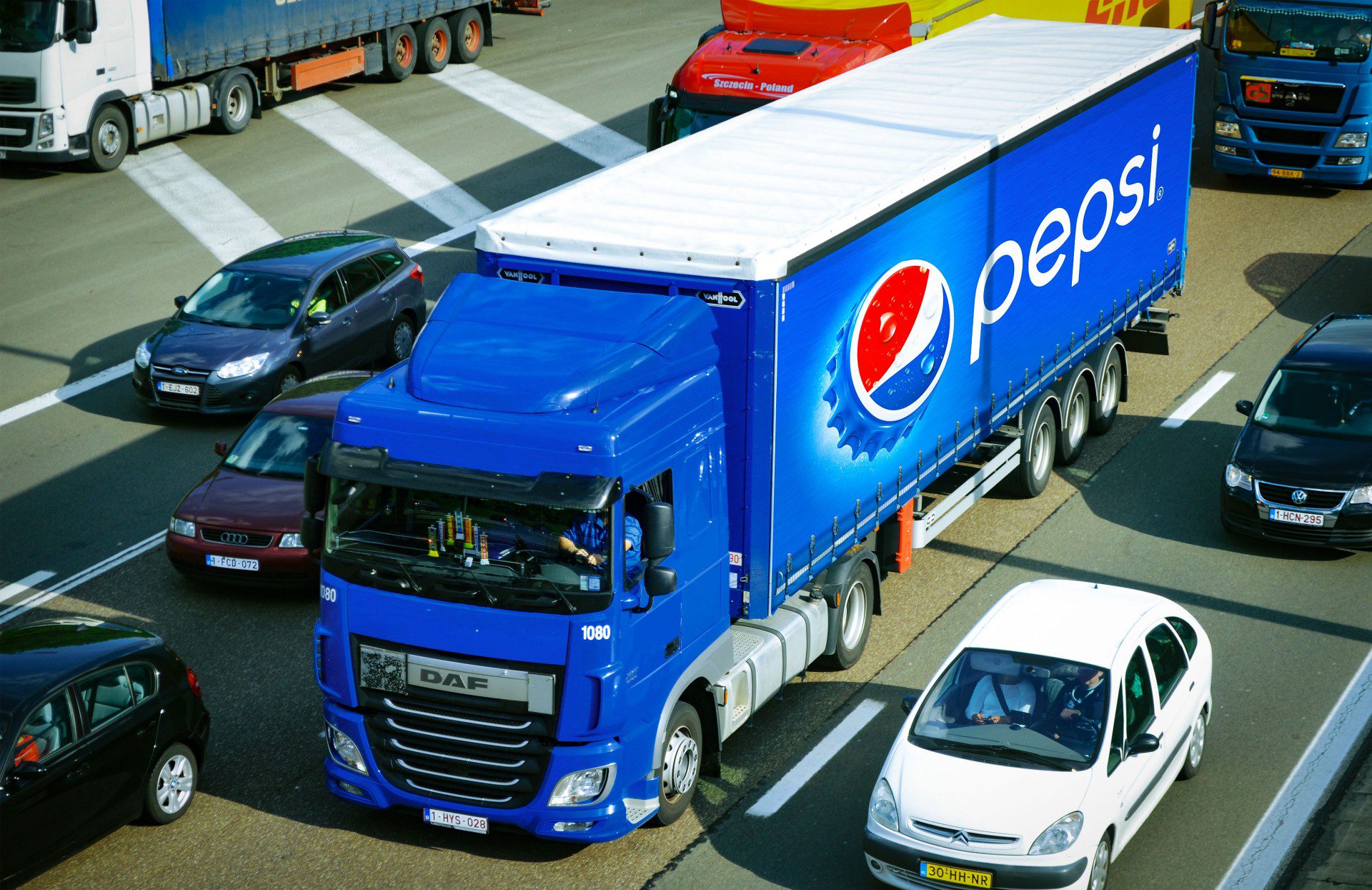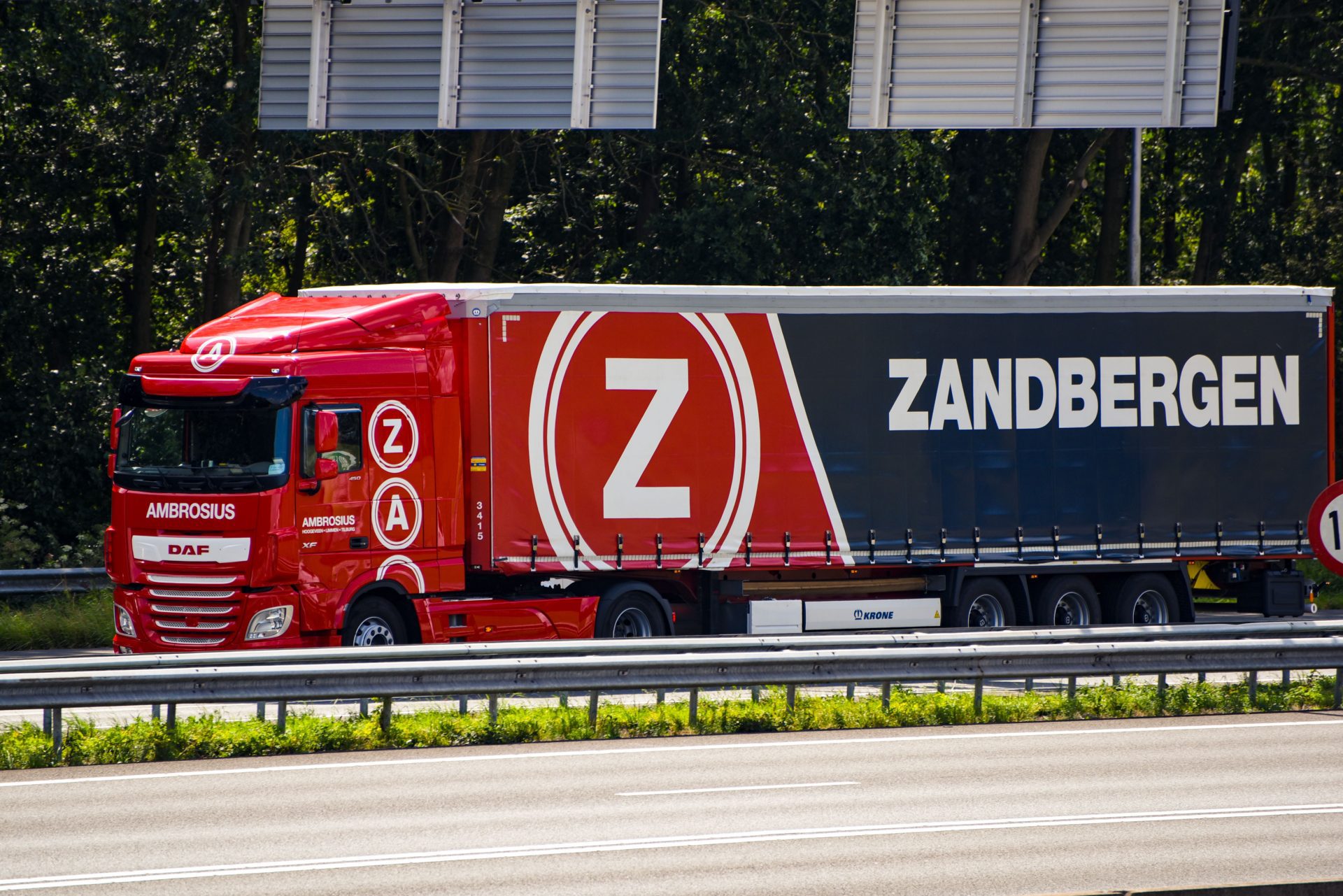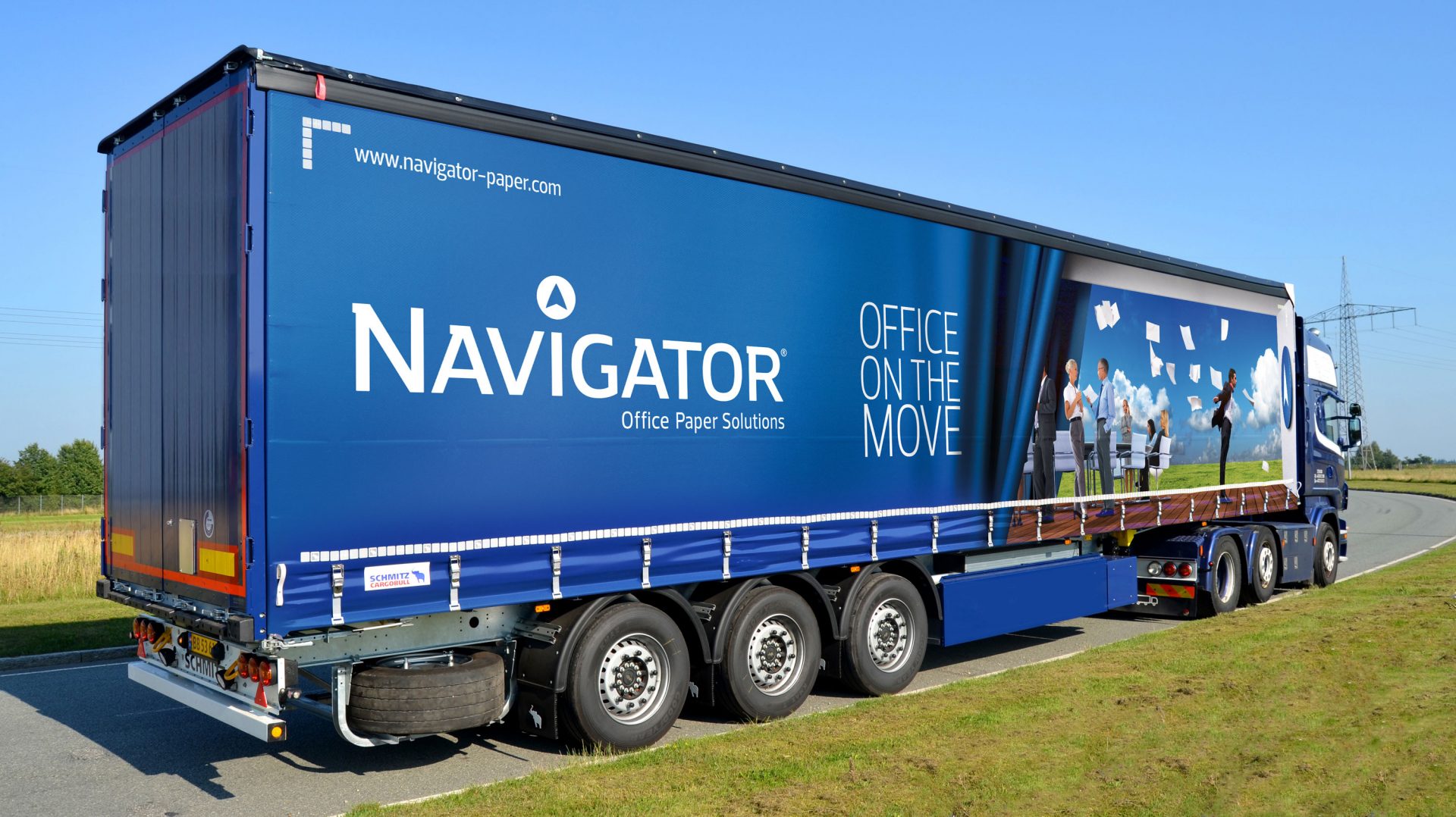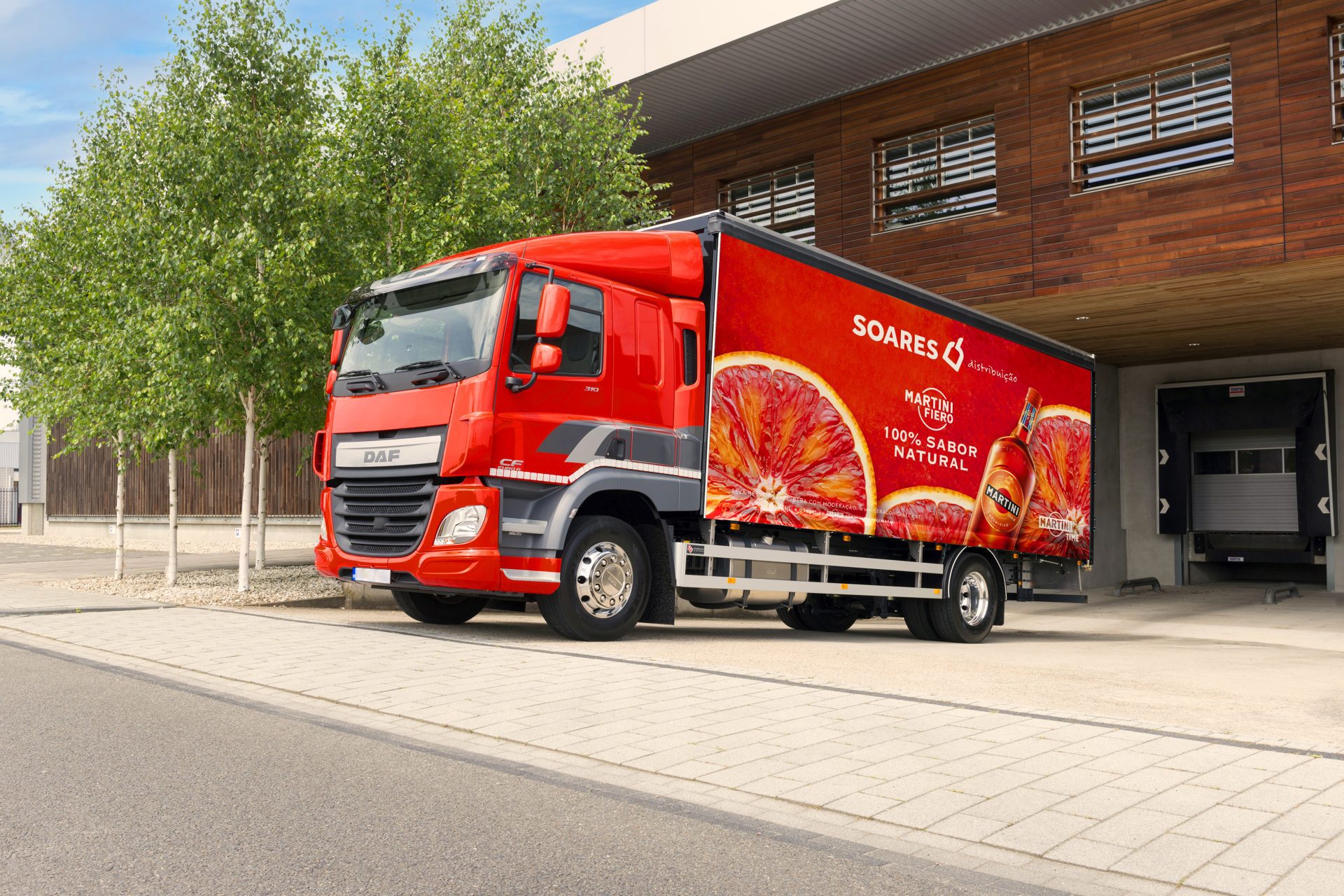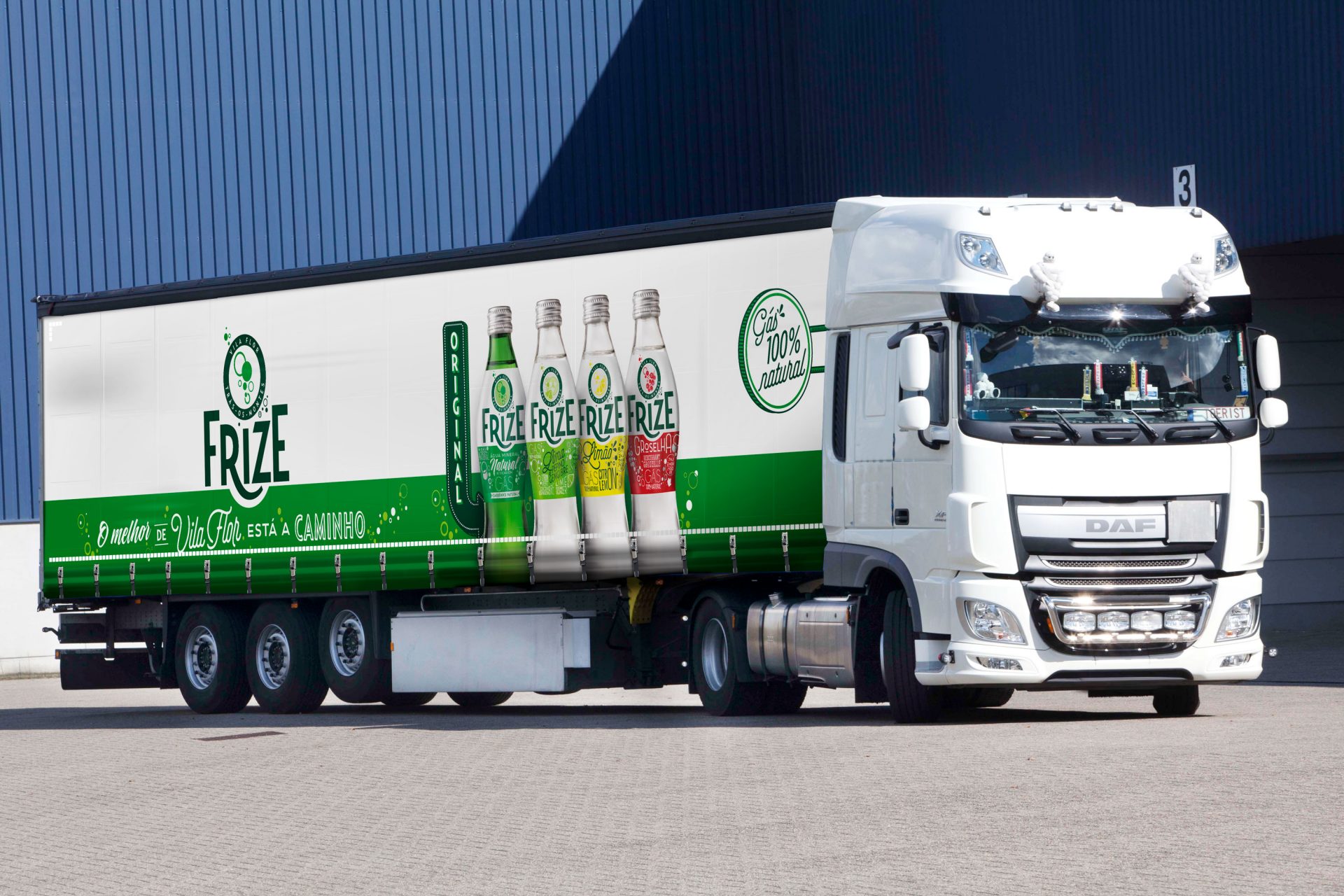 The unrivalled guarantee of SolidskinTec
Printable Technical Textiles began printing and coating side curtains for trucks 20 years ago. Today, our SolidskinTec printing process has become a household name in this market, with many truck side curtains hitting the road every year. Europe's major trailer and tarpaulin manufacturers rely on our SolidskinTec printing process for their premium printed side curtains.
Mehler Texnologies® and Printable Technical Textiles join forces for the first sustainable side curtain.
POLYMAR® 8556 ECO CF with SolidskinTec provides exceptional durability and a vivid print quality. The uniqueness of the material results from a share of up to 50% recycled raw materials, divided into a share of up to 25% recycled raw materials in the coating mass and 100% r-PES yarns. SolidskinTec, applied by Printable Technical Textiles, gives the truck side curtain an unrivalled print quality with a UV protection that guarantees its colour intensity for at least 5 years. Thanks to SolidskinTec's quality, 50% less truck washing is required compared to other truck tarpaulins.
The choice for brands
Many major logistic companies know that no other printed side curtains meet the high standards of SolidskinTec in terms of durability, wear resistance, and quality of appearance.
Our printed side curtains have been tried and tested on the road under extreme weather conditions and in polluted environments. They can withstand intense UV radiation and heavy mechanical stress. We guarantee that side curtains printed with our SolidskinTec will stay beautiful well beyond our warranty period.
Unrivalled appearance for life
SolidskinTec is a printing process that consists of textile pre-treatment, high-quality printing, and a polyurethane varnish. The fusion of textile, inks and varnish changes the nanoscopic surface of the side curtain, making it water- and dirt-repellent. In practice, your side curtain will have no permanent staining during its lifespan – not even in between the folds on top of the curtain or around the buckles. Your side curtain will stay vibrant and looking new for its guaranteed minimum 5-year lifespan.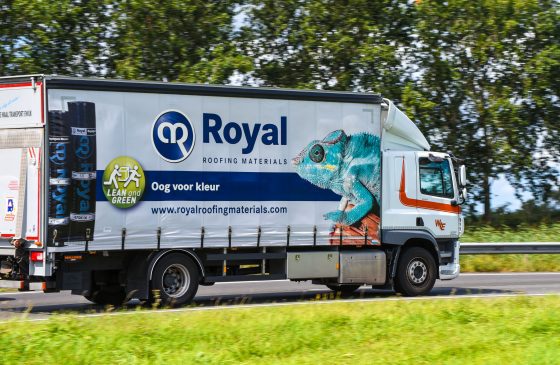 Better endurance and performance
Our SolidskinTec printing process fuses the inks and polyurethane coating with the side curtain fabric. This fusion closes the surface and prevents the textile from drying out while also repelling dirt and water. In practice, this means that your side curtain will maintain its flexibility and durability for its entire lifespan.
Traditional side curtains begin fading and start to show permanent staining after only a short time on the road. Eventually they will become too dirty to be cleaned thoroughly. A SolidskinTec printed side curtain has a 5-year warranty on color intensity, adhesion of inks, and coating. Plus, the dirt-repellent surface makes cleaning much easier, so your printed side panel will look and perform great for years to come.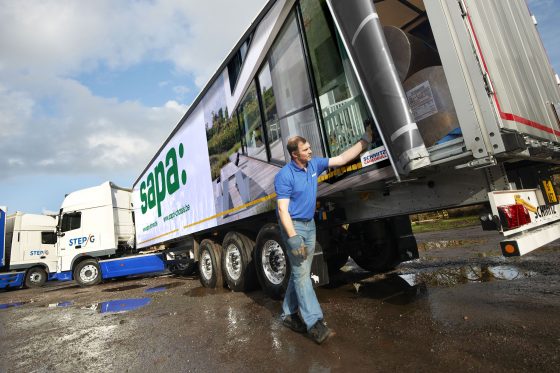 Color matching side curtain and cabin
We excel at printing side curtains that match the color of the cabin to create an impressive combination. Our SolidskinTec printing process makes the difference. Under typical use conditions in bright sun, weather, and pollution, most printed side curtains will lose their color intensity within a year or two, resulting in mismatch of colors between cabin and curtain. Side curtains printed with SolidskinTec are more resistant to the harsh conditions that trucks are exposed to, so they maintain their color integrity longer. Our printers are capable of matching many color standards, such as PMS and RAL. With a truck side curtain printed with SolidskinTec, you can be sure the color match will stay accurate for at least 5 years.
Same investment, better appearance.
A SolidskinTec-printed truck side curtain lasts twice as long as a standard printed one. The cost is comparable, but the quality is much higher. When you factor in lower maintenance costs, 50% lower cleaning frequency, and an unlimited guarantee on appearance and endurance, our printed truck side curtains are the best choice in the market.

SolidskinTec-printed truck side curtains come with a 5-year warranty, which applies to the retention of color intensity, adhesion of the coating, flex-resistance, and dirt-repellent properties.
The proof of the longer lifespan of SolidskinTec curtains can be found on the road! Some trucks have been using the same side curtains for over 10 years and they still look brilliant. But don't just take our word for it: the SolidskinTec printing process has also been independently tested by TÜV-TNO and COT, based on the actual real-life conditions, to conform the ISO 105-A02 / ISO 16474-3 norm.
50% Reduced cleaning and maintenance
The unique SolidskinTec printing process adds a dirt-repellent effect to the technical textile. Dirt, moisture, and mold particles cannot adhere to the finished product. In addition to the reduction in cleaning costs, the cleaning process is more environmentally friendly since aggressive and expensive cleaning agents are no longer required. Your side curtain can be easily cleaned using only water – including rain.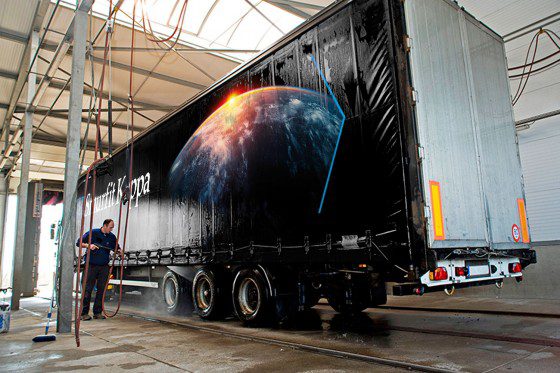 No color fading
The SolidskinTec process results in a print that is resistant to UV radiation. UV radiation can break down the ink pigment molecules, causing bleaching and discoloration. The PU varnish used in our SolidskinTec printing process protects the pigments from UV radiation damage, which means your tensile structure will look the same even after ten or more years of sun exposure, without any signs of bleaching or discoloration.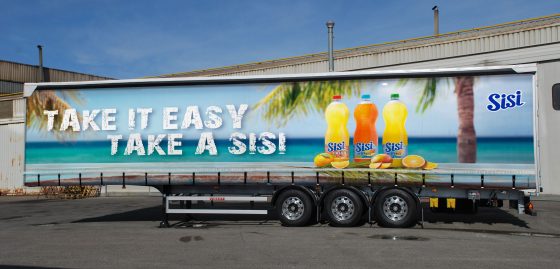 Contour markings that stick around
Our side curtains come with a unique Orafol Oralite R1331 Reflective Marking Tape, which was developed specifically for our SolidskinTec printing process to have maximum adherence. The tape is CE compliant and has outstanding long-distance nighttime visibility.