It's now possible to print customized sunscreens that stay bright and vibrant even with constant sun exposure. Our SolidskinTec printing process protects against UV exposure, making it the perfect durable solution for printed sun shading. Technical textiles printed with SolidskinTec are guaranteed to stay beautiful for a long period of time.
Dirt-repellent membranes
The SolidskinTec printing process transforms the top surface of technical textiles into an apolar closed surface that prevents the adherence of water particles – a phenomenon known as the lotus effect because it resembles the way lotus flowers repel water and dirt. Dirt, moisture, and mold particles cannot adhere to this closed surface, so the printed sun screens or shade sails retains its flexibility and appearance in all weather conditions. Sunscreens and sails printed with SolidskinTec are self-cleaning through rainfall, or can be cleaned with just water – no need for aggressive detergents.
High UV resistance
The SolidskinTec process results in a print that is resistant to UV radiation. UV radiation can break down the pigment molecules in inks, causing bleaching and discoloration. The polyurethane varnish used in our SolidskinTec printing process protects the pigments from UV radiation damage, which means your tensile structure will look the same even after ten or more years of sun exposure, without fading.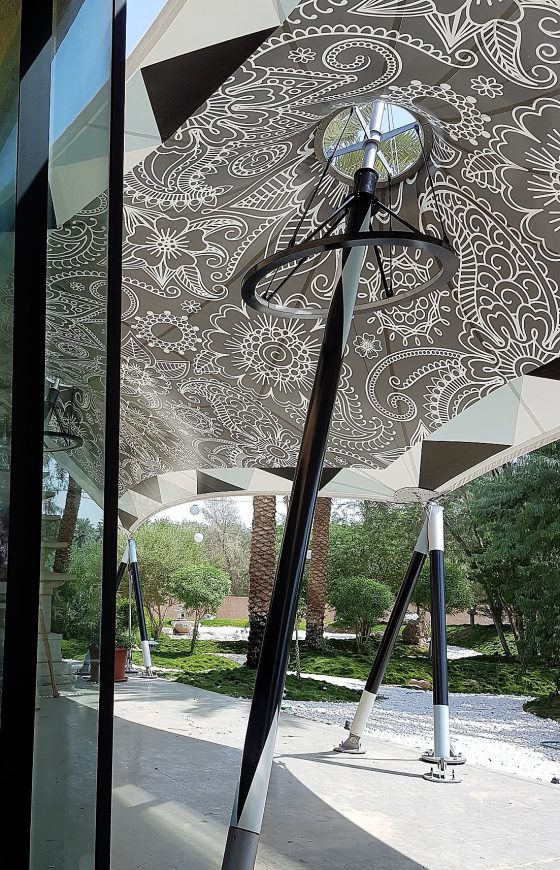 Sample requests for your printed Sunscreens and shade Sails
Printable is happy to provide samples for your production or sample room as part of our range of services. Our experts are pleased to share their passion and extensive knowledge about using printed technical textiles with you. Call us at +31342405125 or mail us at info@printable.eu.