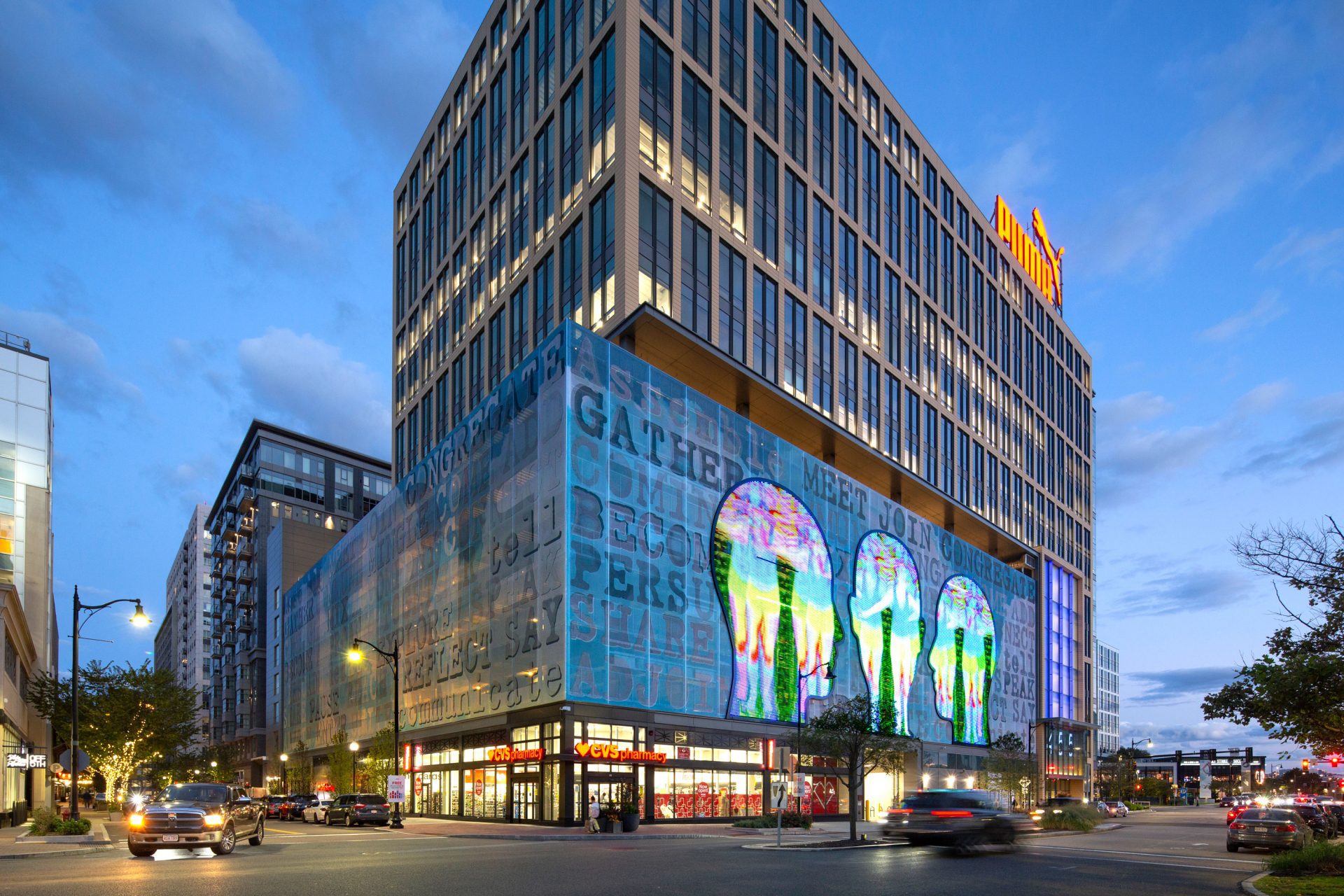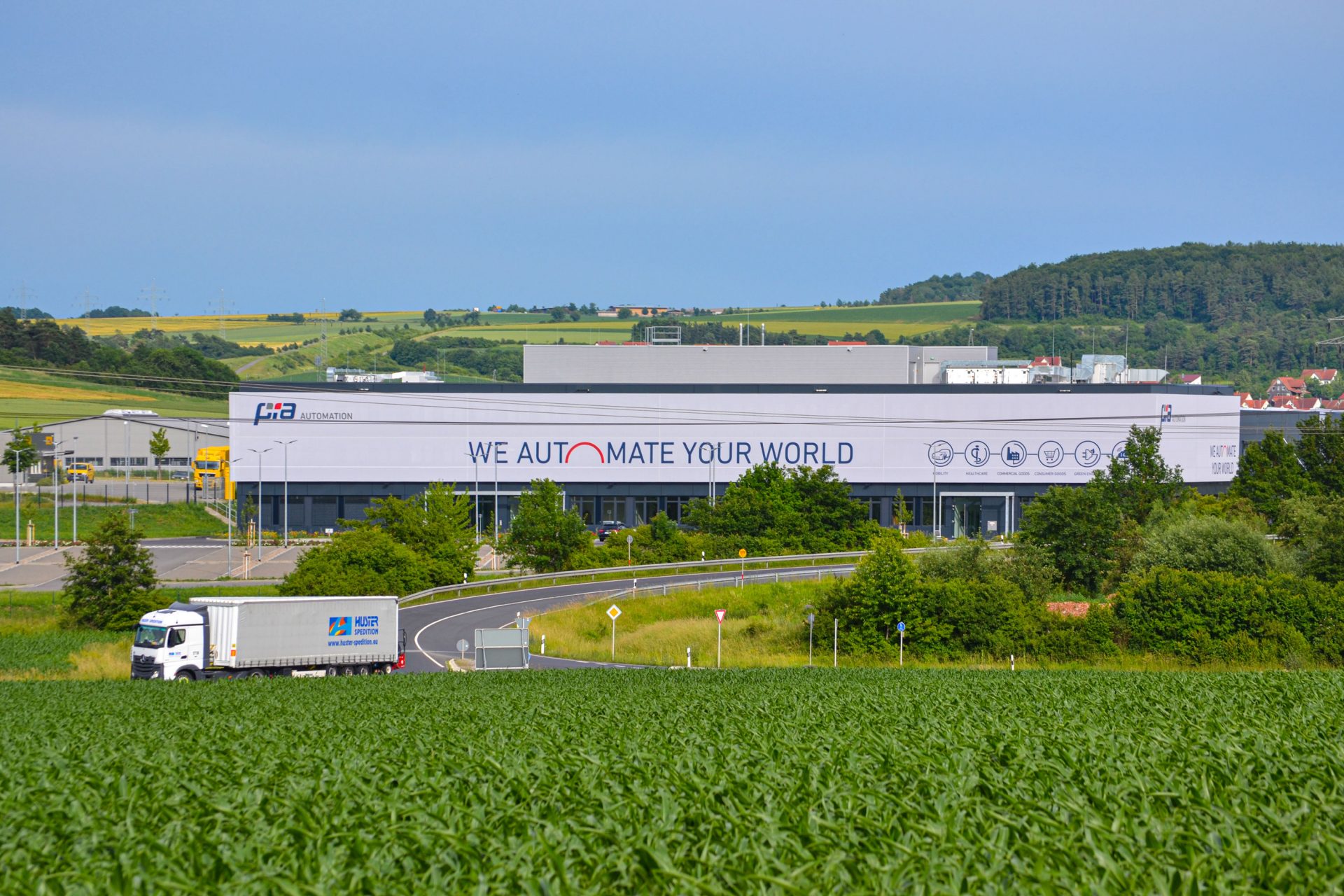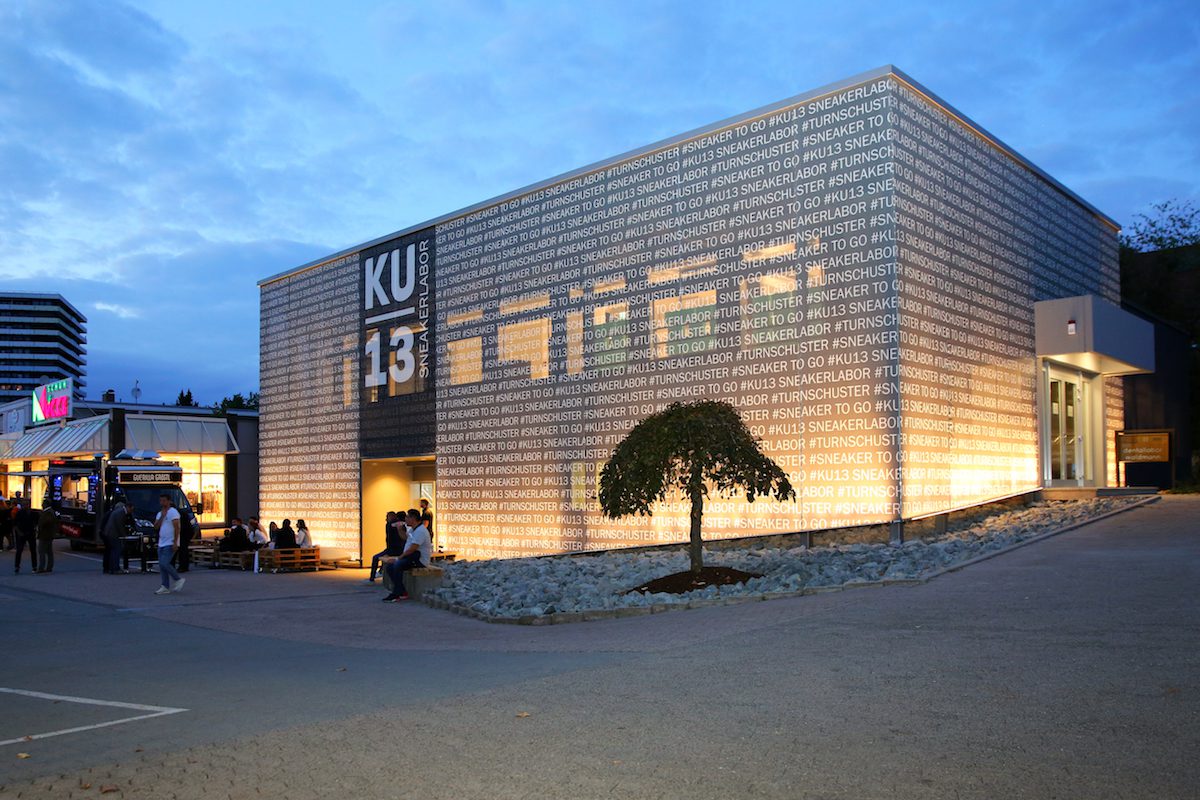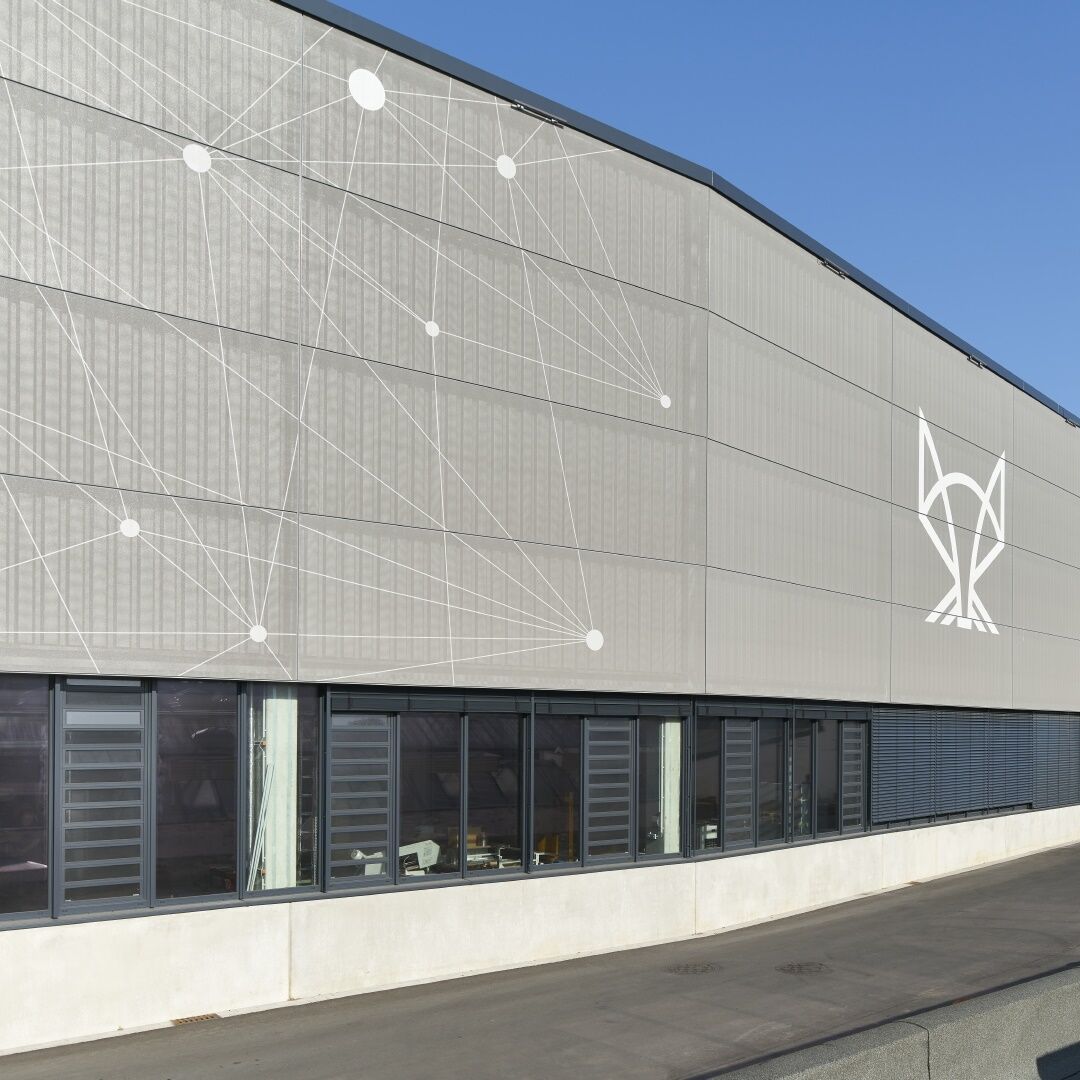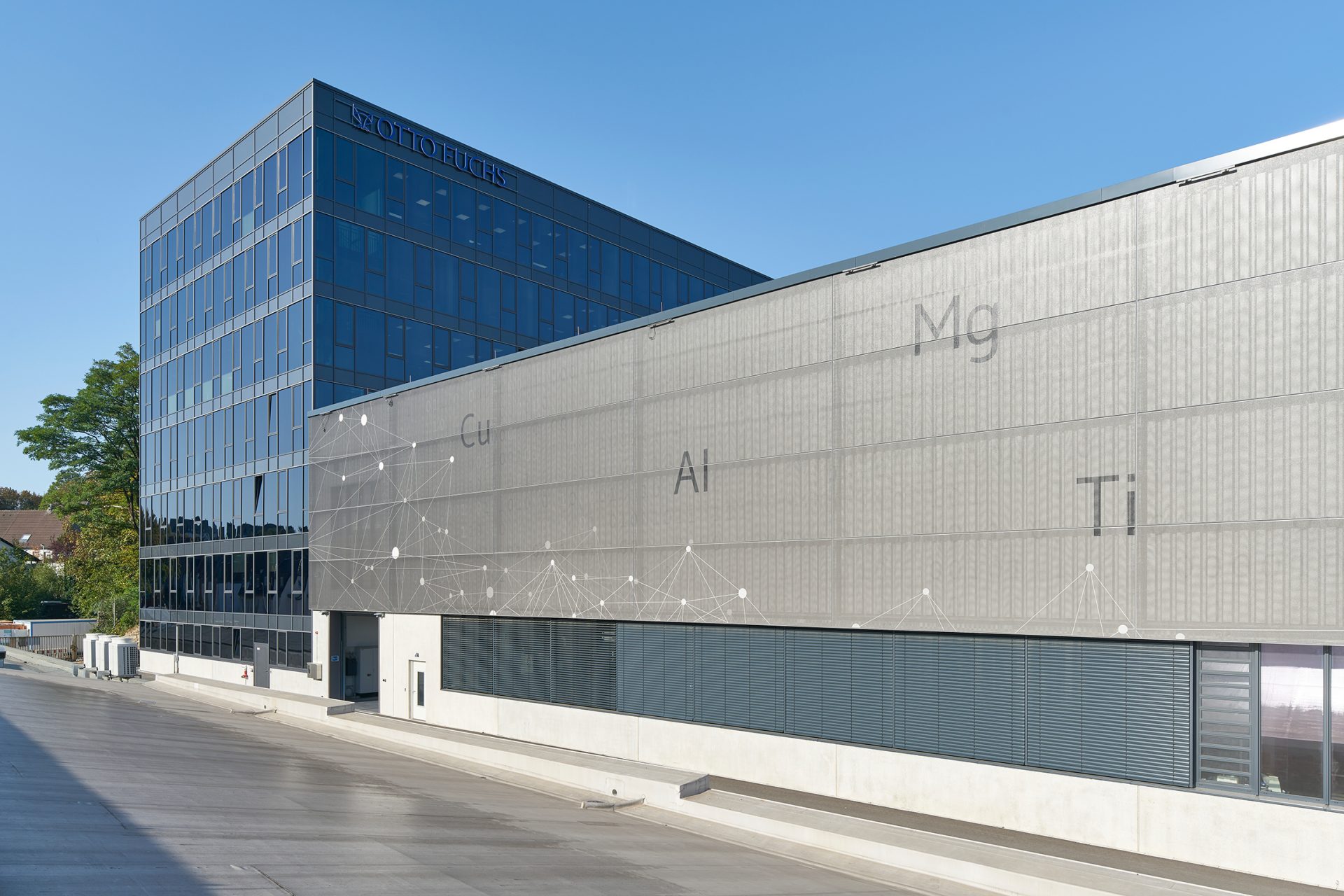 Textile facades printed with our SolidskinTec printing process are the ideal durable fabric facade solution. Our process adds protective properties to the fabric, so your printed product looks great for years to come.
We collaborate with the world's best technical textile manufacturers, such as the Serge Ferrari, Mehler Texnologies, Sattler, Sioen Industries, and Heytex. Together, we have selected and developed a wide range of mesh and solid membranes that are suitable for our SolidskinTec printing process.
These technical textiles meet the industry's requirements in terms of strength, anti-bacterial resistance, and flame retardancy. Our unmatched warranty allows us to offer printed fabrics for permanent facade and building envelope applications.

A unique 10-year guarantee on appearance and endurance
The SolidskinTec printing process, which we use for facade fabrics, was developed with over 15 years of research and development. The Dutch COT institute (TÜV) has thoroughly tested our printed substrates. Printable Technical Textiles is the only solution in the market offering a 10-year warranty on UV resistance, dirt-repellence, ink adhesion, and crack initiation.
Benefits of printed textile facades
Compared to other facade solutions, textile facades or building wraps offer a unique appearance for a surprisingly low investment. Lightweight understructures, dynamic forms, graphical designs, and lighting effects are a few advantages. Moreover, textiles allow for tremendous energy savings for buildings and the environment. Printed textile offers unlimited creative freedom whether you are looking for a single color, a repeating pattern, or a branded image for your facade.
• Any color (system) can be printed
• No minimum order quantity
• Fast delivery
• Competitive prices
• Wide choice of high-quality PVC coated polyester textiles
Unrivaled image quality
We print technical textiles with top-of-the-line printers and maintain the highest print standards. Our SolidskinTec printing process intensifies colors and protects the print by closing its surface and preventing crack initiation. SolidskinTec makes the surface dirt-repellent and resistant to cleaning. This contributes to the long-term preservation of the print and the technical textile.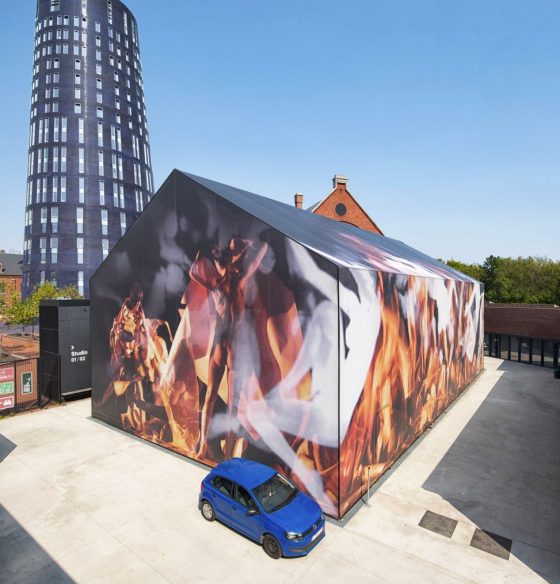 Wide choice of technical textiles
Our SolidskinTec printing process can be applied to a wide range of solid and open mesh PES/PVC fabrics from renowned technical textile manufacturers. The open mesh fabrics are ideal for facades, building wraps, and other architectural applications. We collaborate with our partners to select PES-PVC textiles that are prepared for our demands. This preparation ensures an even embedding and adhesion of inks with our polyurethane varnish.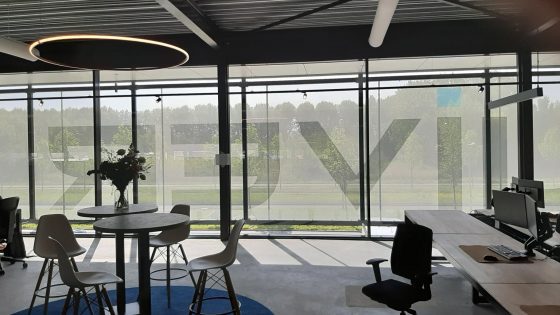 Any color for your textile facades
PES/PVC textiles come in a limited range of standard colors. Although manufacturers can produce custom colors, the minimum order quantity is significant, and production takes a long time. These factors have restricted the creation of textile facades in the past.
Printable Technical Textiles offers an answer for textile facades that are needed in custom solid colors. Our on-demand printing technique enables us to match any desired color, e.g., RAL colors, quickly produced and for any quantity without restrictions. A significant benefit of printing the technical textile compared to a textile produced in color is that our SolidskinTec printing process extends the lifespan of the textile making it more durable than the 'original' one!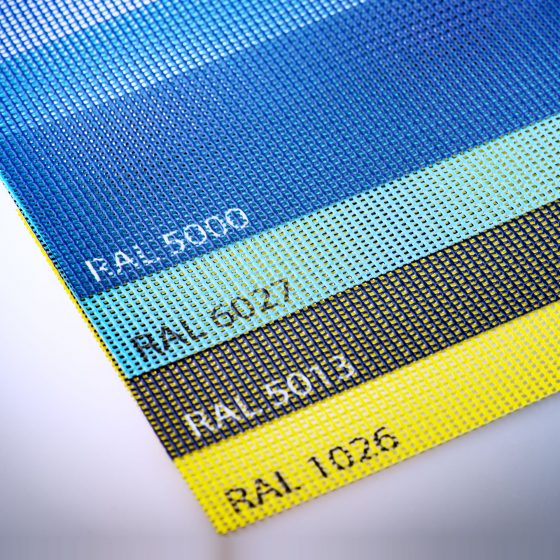 Sample requests and color proofing for your textile facades
 Call us at +31342405125 or mail us at info@printable.eu. As part of our range of services, Printable is happy to provide samples for your production or sample room. Our experts are happy to share their passion and extensive knowledge about the use of printed technical textiles with you.