Freedom of design
The Printable facade architecture canvas is characterised by its printed surface. Our facade canvas impose eye-catching graphical elements onto buildings. Printed on-demand, our substrates achieve the best hard-wearing resistance combined with freedom of choice in design and ideas. Whether you are looking for a single colour, a repeating pattern or a branded image, Archiinks is able to produce solutions tailored to meet your demands.
10 Year Warranty on Appearance
Archiinks makes use of a unique production process developed over 15 years of innovation. Our products have been thoroughly tested by the COT institute and the TÜV-TNO. Due to a special preparation with print primer , using innovative Dip-technology, ensures our facade canvas is well-prepared to take our inks and the special varnish. The result is a consistent product: UV-resistant, dirt-repellent and self-cleaning and flex resistant against tearing. The Archiinks substrate is the only product in this market offering a long-term warrentee on these key aspects of appearance.
High UV-resistance
Our canvas has been created to enable clients to add design, colour or an image to architecture. This is why we developed a coating that is able to resist long-term bleaching through UV-rays. Tested thoroughly, our colours can match any colour system, retaining its warranted colour intensity for over 10 years.
Strong
Our canvas is a strong open-weave PES-PVC textile. Thanks to an innovative preparation process using "Dip-technology", in combination with our inks and our special coating technique, Archiinks is the strongest and most durable textile facade available. The canvas is flex resistant and returns into shape after wind loads. The vented open mesh windscreen pattern allows air to pass through, putting the least amount of strain on the construction.
Self-cleaning
In our production process, we change the textile into an entirely new product with an apolar closed surface, achieving a lotus-effect. The resulting dirt-repellent surface and the apolar characteristics give the canvas self-cleaning properties. The canvas will clean itself through rainfall or can easily be cleaned without the use of aggressive detergents.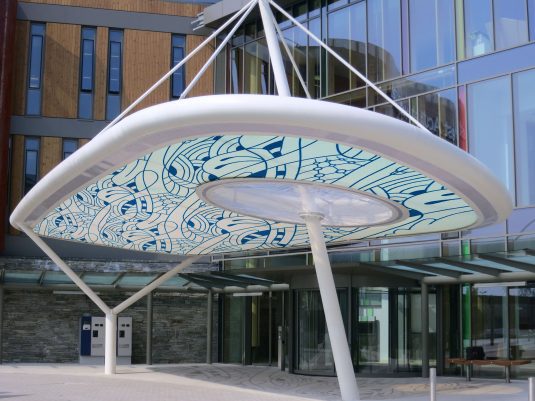 Controlling the Building's Climate
The Archiinks hard-wearing, breathable facade system contributes to lower energy consumption, as it helps control the internal climate.
Natural ventilation
A breathable facade system contributes to lower energy consumption, as it helps control the internal climate. Archiinks can be combined with insulation, vapour promoting or retardant films, to design an effective, as well as decorative facade or architectural application. Air-conditioning has become mandatory in almost every project, to ensure a comfortable internal environment. It is therefore vital to try to reduce the external heat penetrating the interior as much as possible, so that the need for air-conditioning declines. The result is a considerable saving in energy.
Permanent sunscreen
Archiinks can be used as a sun-blocking application. Sun-shading applications allow for proper ventilation and prevent the accumulation of warm air in front of the facade. At the same time they also allow natural light inside the building, reducing the need for artificial lighting during the daytime. The facade canvas can be printed on both sides, allowing the creation of internal as well as external decorative elements, or to enhance the view to the outside.
Sample requests and colour proofing
As part of our range of services, Printable is happy to provide colour samples for your production or sample room. Our printing production systems can match any colour system by creating an exact formula for your desired project on a fully coated and finished canvas sample.
Call us on +31342405125