Stand out or blend in with the environment
Fast roll-up doors deliver clear benefits for safety, climate control and logistics. They also provide unique opportunities when it comes to appearance. However, these doors must be able to handle repetitive mechanical stress. The Solidskin canvas for fast roll-up doors has an unrivalled lifespan, combined with complete freedom of design.
Freedom of design
The Solidskin canvas is printed on-demand, giving complete freedom of choice in terms of design and creative ideas. Our printers deliver razor-sharp imagery and a high-gloss finish. Whether you're looking for a single colour to match the interior, a complete image, or a branded door in your company's colours and with your company logo, our canvas can be tailored to your requirements.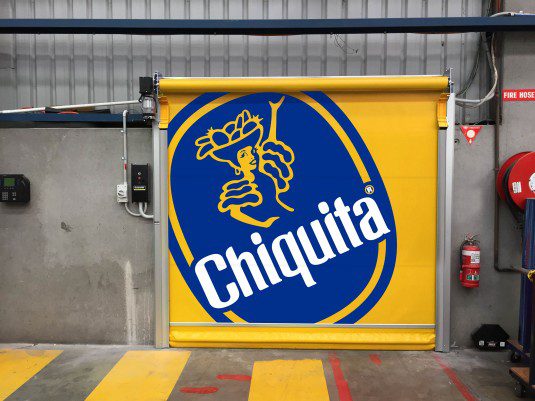 Bacteria resistant and easier to clean.
Our Solidskin canvas doors meet the required health and safety standards in a laboratory, in industry as well as when used as sliding doors in the food sector. The Solidskin surface has a dirt-repellent effect. Due to its closed surface and coating, the canvas does not allow bacteria to settle in the cloth. This not only reduces cleaning, the cleaning process itself is more environmentally friendly. And all the necessary standards are met.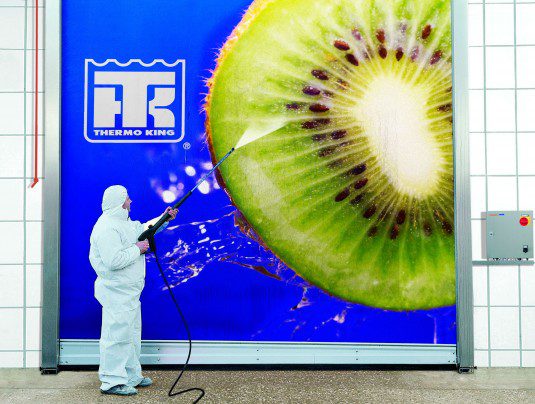 10-year warranty on appearance
Solidskin delivers the highest possible quality and our roll-door canvas comes with a 10-year warranty, covering: Retention of colour intensity, adherence of coating, resistance to tearing and the dirt-repellent effect. Solidskin has been independently tested by TÜV-TNO and the COT institute, based on actual real-life conditions (ISO 105-A02 / ISO 11507). The results clearly show that Solidskin delivers the highest possible quality.
Solidskin explained
The Solidskin canvas is treated using a unique production process. We change a canvas structure into an entirely new product by unifying the canvas, coating and inks. The result is a product with a closed surface and increased flexibility. In addition, this unique process generates a lotus effect on the surface, giving it self-cleaning properties.