Printed on-demand, our substrates achieve the best hard-wearing resistance combined with freedom of choice in design and ideas. The textile structure makes this your perfect architecture membrane. Whether you are looking for a single colour, a repeating pattern or a branded image, out textile is able to produce solutions tailored to meet your demands.
Printable works with a range of renowned, high-quality technical textiles that are printed on demand. Our unique coating and printing process deliver unrivalled protection against discolouring and degradation of quality through UV-radiation and the effects of mould. This is why we are able to give a 10-year warranty on appearance. Whether it's for a single shade, a tensile facade or a complete tensile roof structure for a stadium, our membrane substrates will enable you to make a real impact at a low cost.
Compared to other facade solutions, textile facades offer a unique appearance for a surprisingly low investment. Lightweight supportive structures, dynamic forms, graphical designs and lightning effects are just a few of the advantages. Moreover, the textiles allow for tremendous energy savings to building and environment. The Printable facade architecture canvas is characterised by its printed surface and unique warrantees.
A unique 10 Year Warranty on Appearance
Our architectural textile makes use of a unique production process developed over 15 years of innovation. Our products have been thoroughly tested by the COT and TÜV institute. The Printable textile membrane is the only product in this market offering a 10 year warranty on UV-resistance, repellence, flex resistance against tearing.
The benefits:
Any color (system) can be matched
No minimum order quantity
Fast delivery
Competitive prices
Unlimited 10 year warranty
Wide choice of high quality PVC coated polyester textiles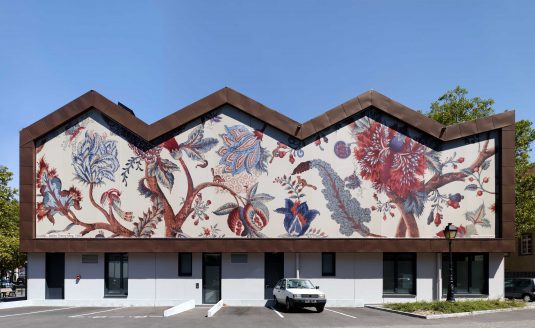 Strong
Thanks to an innovative coating technique, our substrates are flex resistant and able to resist mechanical stresses and extreme weather conditions. Our printed textiles offer a unrivalled lifespan without showing any tear or wear, making them the most durable product available.
High UV-resistance
Our canvas has been created to enable clients to add design, colour or an image to architecture. This is why we developed a coating that is able to resist long-term bleaching through UV-rays. Tested thoroughly and proven in the field, our fabrics keep their appearance and colour intensity for over 10 year. Guaranteed!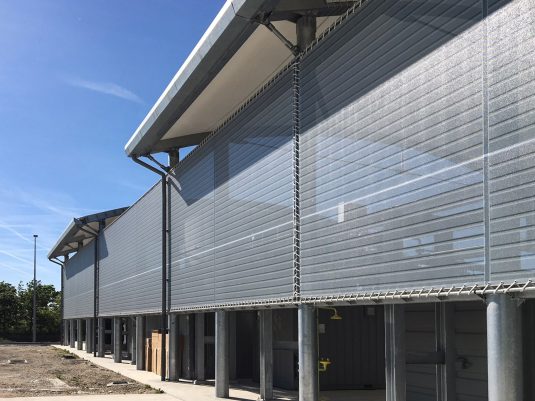 Closed or open weave
Printable prints on a wide range of solid and open mesh PES/PVC fabrics from renowned technical textile manufacturers, such as Serge Ferrari, Sioen Industries, Mehler Texnologies and Sattler. Our substrates are delivered with a 10 year unlimited warranty on the preservation of the color and appearance of the substrate.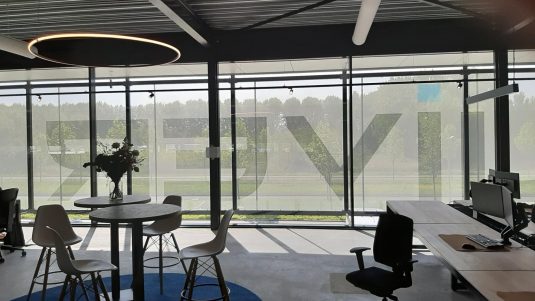 Self-cleaning
In our production process, we change the textile into an entirely new product with an apolar closed surface, achieving a lotus-effect. The resulting dirt-repellent surface and the apolar characteristics give the canvas self-cleaning properties. The tensile fabric will clean itself through rainfall or can easily be cleaned without the use of aggressive detergents.
FABRICS PRINTED IN SOLID (RAL) COLORS
Manufacturers of PES/PVC textiles offer their products in a limited range of colors. Custom colors can be produced on demand, but the minimum order quantity is large and production takes a long time. These factors have brought a lot of restrictions to the creation of textile architecture in the past.
Printable offers an answer for architectural substrates that are needed in custom solid colors. Our on demand printing technique enables us to match any desired color, e.g. RAL colors, quickly produced and for any quantity without restrictions.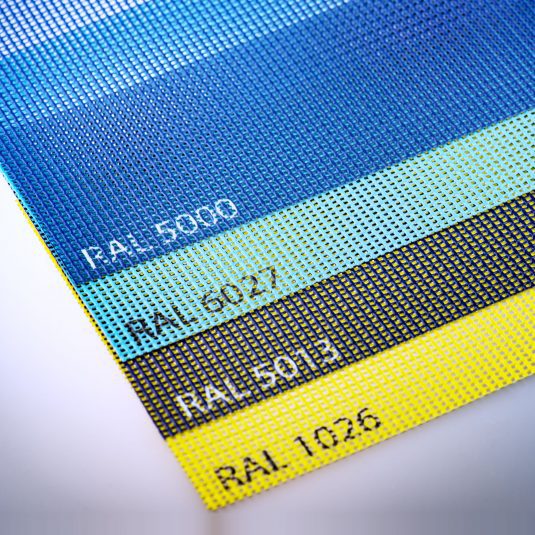 Sample requests and colour proofing
Call us on +31342405125
As part of our range of services, Printable is happy to provide colour samples for your production or sample room. Our printing production systems can match any colour system by creating an exact formula for your desired project on a fully coated and finished canvas sample.