Our industrial printed textiles are used in a lot of different applications for both indoor and outdoor usage. Our on-demand printed textiles can create communicative and eye-catching elements. Our coated textiles are robust and offer hygienic benefits recognized by many textile product manufacturers.
5-year warranty on appearance
Our printed industrial textiles come with a 5-year warranty. This warranty applies to the retention of colour intensity, adherence of the coating and the dirt-repellent effect. Solidskin has also been independently tested by TÜV-TNO and COT, based on the actual real-life conditions, and our products are ISO 105-A02 / ISO 11507 certified. The results clearly show that our printed industrial textiles side deliver the highest possible quality.
Unrivalled image quality
Whatever your project our printed textile is a great medium for some really impressive communication. Branding and full-colour images – every design is possible. The high-gloss finish gives an exclusive appearance, making the tent literally stand out in the crowd.
The characteristic coating enhances colour intensity and delivers a high-gloss finish. The unique PU-coating protects your print, making it dirt-repellent and resistant to cleaning and mechanical stress.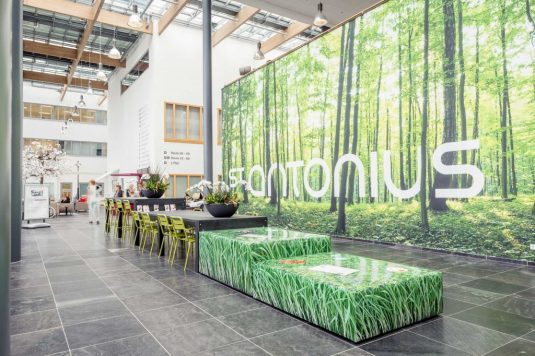 Bacteria repellence and easier to clean.
When it comes to inflatables for playgrounds, hygiene is an important aspect. Our substrates has a dirt-repellent effect. Due to its closed surface and coating, the canvas does not allow bacteria to settle in the cloth. This not only reduces cleaning, the cleaning process itself is more environmentally friendly. And all the necessary standards are met.
Sample requests and colour proofing
As part of our range of services, Printable is happy to provide colour samples for your production or sample room. Our printing production systems can match any colour system by creating an exact formula for your desired project on a fully coated and finished canvas sample.
Call us on +31342405125