Over 4000 new sets of Solidskin side curtains hit the road every year.
Curtainsiders on trailers need to be able to resist extreme weather conditions and mechanical stress. Most tarpaulins often show wear and tear. Transporters around the world benefit from the high quality of Solidskin side curtains. They know from experience that these curtains are the best choice in the market for their durability, resistance to tear and wear and appearance.
The Printable Solidskin canvas has an excellent appearance and is known for its unrivalled lifespan. Our extensive guarantee covers the preservation of colour intensity, adherence of the coating, flex-resistance and the dirt-repellent surface of the side curtains.
When developing the special production techniques for Solidskin, the focus lay on producing optimum image quality. This is why some of the strongest brands across Europe have chosen Solidskin Curtainsiders to promote their brand: high-quality appearance, our ability to match any colour and the long-term preservation of appearance for curtain trailers in use.
Unrivalled image quality
The characteristic Solidskin coating enhances colour intensity and delivers a high-gloss finish to your side curtain. The unique PU-coating protects your print, making it dirt-repellent and resistant to cleaning and mechanical stress.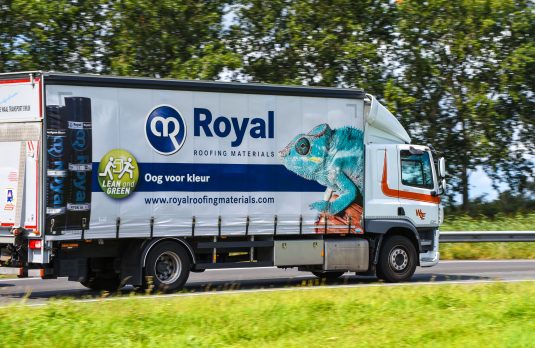 Looking good, guaranteed!
After a short while on the road, traditional side curtains quickly start to look faded, and show permanent staining, especially between the vertical ribs. They soon become too dirty to be cleaned fully. Solidskin guarantees 5 years on appearance, colour intensity, adherence of coating, flex-resistance and the dirt-repellent surface of curtainsiders.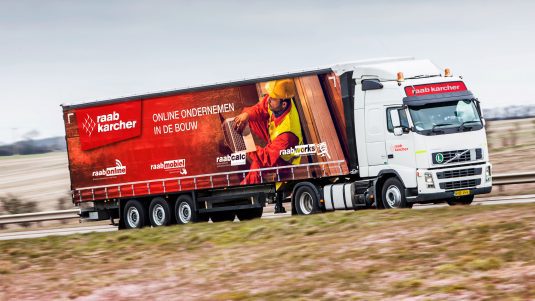 Contour markings that stick around
Our side curtains come with Orafol Oralite R1331 Reflective Marking Tape, a technology that was developed for our Solidskin Curtainsiders to have a maximum adherence. They are CE compliant and have outstanding long distance night time visibility.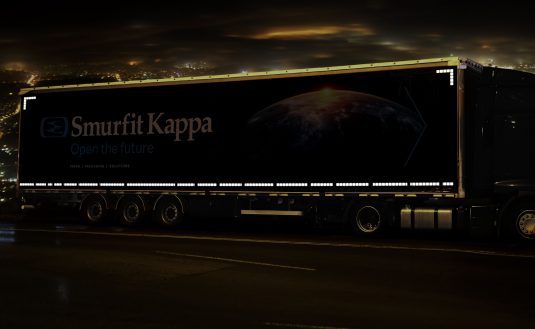 Same investment, better appearance.
Bearing in mind a Solidskin side curtain lasts 5 times longer than a standard one, the investment in a Solidskin is the same, but the result in terms of perseverance of quality is very different!
50% Reduced cleaning and maintenance
The unique Solidskin coating has a dirt-repellent effect that is resistant to both cleaning and mechanical stress. In addition to the reduction in cleaning costs of curtain trailers, the cleaning process itself is more environmentally friendly, since aggressive and expensive cleaning agents are no longer required.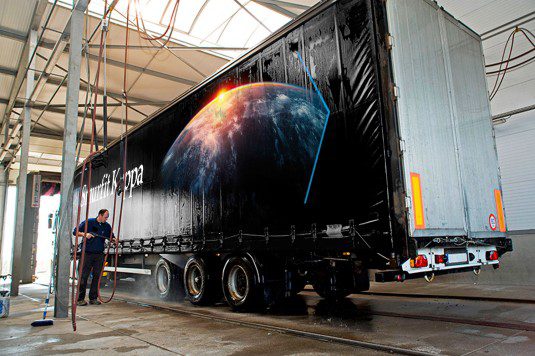 5-year warranty on appearance
Solidskin side curtains come with a 5-year warranty. This warranty applies to the retention of colour intensity, adherence of the coating, flex-resistance and the dirt-repellent effect of the side curtains.
The proof of the longer lifespan of Solidskin solutions can be found on the road! Some trucks have been driving for over 10 years with a Solidskin side curtain and still have a brilliant appearance. But don't just take our word for it: Solidskin has also been independently tested by TÜV-TNO and COT, based on the actual real-life conditions, and our products are ISO 105-A02 / ISO 11507 certified. The results clearly show that Solidskin side curtains deliver the highest possible quality.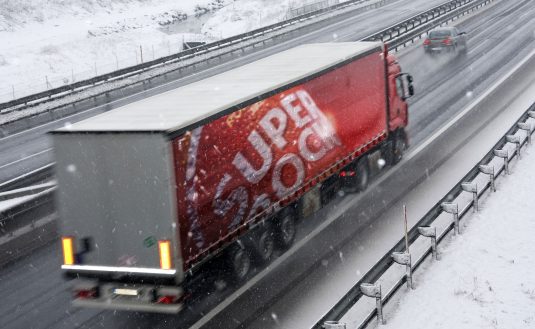 European representation, in your language
Looking for a Solidskin tarpaulin producer?
Leading truck-curtain manufacturers throughout Europe choose Solidskin quality. Solidskin side curtains offer the highest quality and warrantee for your tarpaulins. Represented in over 10+ countries in Europe by more than 30+ manufacturers. You can be sure direct communication lines, competitive pricing and tailored solutions to your needs.
Solidskin explained
The Solidskin canvas is treated using a unique production process. A Solidskin side curtain can be fully printed in any colour or design of your choice, following which the protective lacquer is applied. The result is a clean surface that will maintain its appearance for years to come.