Our coating process is the heart of our canvas. When developing our coating, our focus lay on preserving the quality of the image. In our R&D, we discovered that a non-water-based PU-coating is the only way to really protect outdoor textiles.
The difference explained
To understand why our process differs from standard coating textiles or protecting print with lacquers, it is important to appreciate the critical role played by selection of the textile and its pre-treatment. Water-based coatings cannot cope with the mechanical stress. These coatings show obvious defects after only one year, because the canvas, inks and coating stack. Our coating unifies with the inks into the canvas and so has no problem dealing with mechanical stress.
Independently tested 
Our solutions are independently tested by TÜV-TNO and the COT institute. The test criteria were based on actual real-life conditions. During the test we looked at preservation of colour intensity, adherence, flex-resistance, and the dirt-repellent effects.
These tests are part of the ISO 11507 and are easy to apply to the actual use of the product. Instead of simulating daylight using a Xenon light-source, a UV light-source was used (Type II – UVA 340 nm). All tests were carried out with and without the influence of water condensation. The duration of the tests was set at 4,000 hours, which equals the average number of hours of sunshine in Western European countries over a period of 10 years.
The studies clearly show that our technique delivers the highest long-lasting quality. As a result, our canvas has no problem dealing with mechanical stresses and extreme weather conditions over long periodes of time.
UV-resistance
When exposed to UV rays, water-based coatings turn yellow as the lacquer dries out. This makes the surface brittle, allowing it to detach, exposing the ink and canvas to dirt, moist and mold. Our PU-coating does not turn yellow and, since our coating fuses with ink and textile, we create a strongly adhesive effect, which does not detach and which continues to retain its flexibility.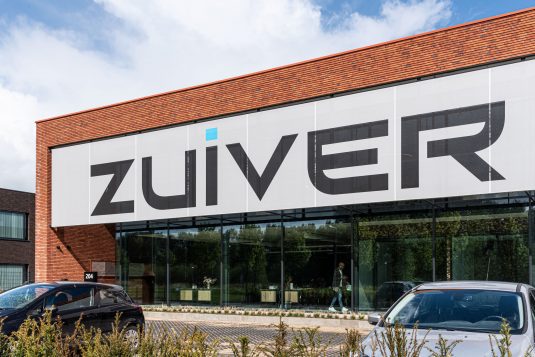 Reduction of cleaning frequency
During maintenance, coatings can become damaged by cleaning chemicals that break the structure of the protective layer. Our PU-coating does not react to any substances. Because of the structure of our coating, the resulting lotus effect repels dirt and chemicals off the surface, making it easy to wash dirt with just water and rain. This dirt-repellent surface also reduces cleaning frequency and the need for harsh chemicals.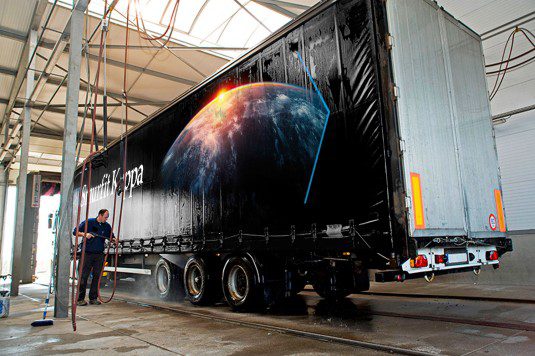 Accelerated weathering tests 
Although actual outdoor exposure is an ideal way to test our products, it's realistic to say that you can't always afford to wait years for real-time test results, to prove our product quality. This is why we are able to give you fast and reliable weather-resistant and colour-fast samples from our internal QUV laboratory. We regularly test our canvas against other market solutions and we can also provide this service for you.