Unlimited 
sun-blocking canvasses
Archiinks offers the ideal textile for robust external sunscreens, with complete freedom of design. Our sunscreens reduce the impact of the harsh sun and provide a visually stimulating façade to the building. Since the screens are printed on demand, any design can be implemented to give buildings their unique appearance, or to incorporate the brand into a building. And for a surprisingly low investment.
Wide range of material options
Sun-blocking solutions for buildings vary from canopies and vertical blinds, to permanent sunscreens. Archiinks has a large selection of different solutions for outdoor sun blockers. We supply closed and open-weave canvasses to meet your specific sunblind requirements and can advise you on the most suitable solution for your project.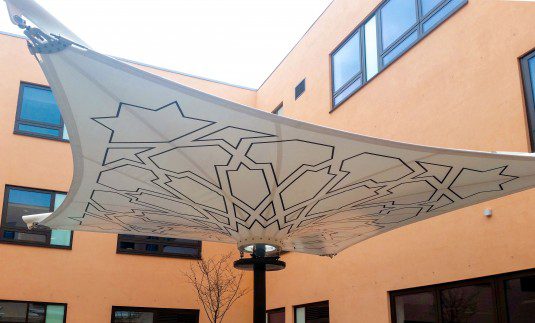 Archiinks facade canvas can be printed on both sides, allowing the creation of internal as well as external decorative elements, or to enhance the view to the outside.
10 year warranty
Archiinks makes use of a unique production process developed over 15 years of innovation. Our products have been thoroughly tested by the COT institute and the TÜV-TNO and complies with European regulations. The Archiinks facade textile is the only product in this market offering a 10 year warrantee on both appearance and flex resistance.
High UV-resistance
Our canvas has been created to enable clients to add design, colour or an image to architecture. This is why we developed a coating that is able to resist long-term bleaching through UV-rays. Tested thoroughly, our colours can match any colour system, retaining its warranted colour intensity for over 10 years.
Self-cleaning
In our production process, we change the textile into an entirely new product with an apolar closed surface, achieving a lotus-effect. The resulting dirt-repellent surface and the apolar characteristics give the canvas impressive self-cleaning properties. The canvas will clean itself through rainfall or can easily be cleaned without the use of aggressive detergents.
Sample requests and colour proofing
As part of our range of services, Printable is happy to provide colour samples for your production or sample room. Our printing production systems can match any colour system by creating an exact formula for your desired project on a fully coated and finished canvas sample.
Call us on +31342405125